Software Watch Accuracy will count your watches´ daily average aberrance
Are you interested in knowing how accurate your watches are? Watch Accuracy will find out. lt counts the daily average aberrance from the measured data.
Thanks to the application Watch Accurancy, you can track the daily average aberrance of your favorite watch fast and comfortably. After the initialisation, the camera on your device will turn on and then you just document your watch. Measured data will be saved in your own profile and the abberance will be counted afterwards. The bigger the interval between each measurement, the bigger the accurancy ofthe conclusion. Application is in these languages: slovak, czech and english.
Easyly controllable
More profiles far each watch
Showing and editing of each measurement
Sending the measured data to your email adress
Option of setting the timer while taking the picture
Apossibility to use far a time measurement rfom NTP server
a possibility to chamge the camera regime in the app
Many supported types of clock faces:
Množstvo podporovaných typov ciferníkov:
Centre – second (12h)
Small seconds hand (12h)
Without seconds hand (12h)
Centre – second (24h)
Small seconds hand (24h)
Without seconds hand (24h)
Android in version 3 (Gingerbread) and newer
camera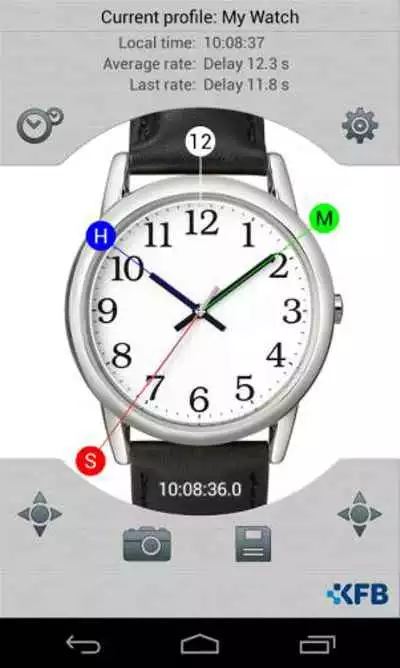 I am interested in software Watch Accuracy.