Software Clevork - A complex software service for evidence and analysis of attendance and activities
Clevork is a software service running in cloud, or user's server, which was developed for fast overview and detailed management of employee' s attendance and activities. lt is possible to create reports and timesheets very easily. By analyzing processed information, Clevork helps your company to become more effective in task assignment and overall operation of the company. After authentication, management and control is available by remote access through web browser or mobile app.
Evidence of employee's working time and iť s use. Time events can be collected from attendance terminals or put in manually via mobile app or web site. The application can cooperate with attendance terminal Preciso, xTerminal, or with third party attendance terminals.
work on the principle of gamification (game elements in non-game environment)
clearand intuitive graphical user interface
activities can be started and stopped fast through tiles
simple generating of different types of reports
export ofthe data to standard format MS Excel
cooperationwith the SAP system
access to data possible not only from the attendance terminal, but also from mobile devices, web browser and desktop client
data about attendance and activities can be connected a GPS location
clearly defined access rights, integrated authentication
a possibility of processing data through cloud
multilingual system
functional expandability support according to customer's requirements and wishes
Launchpad - fast entry of attendance and activities
Fast access tiles are designed to make manual logging of attendance prompt and simple, and to control activities through web interface, mobile app or attendance terminal. The type ofthe tile, their spacing, adding, and deleting is adjustable according to current need of the user.
With mobile devices that contain a GPS module iť s nota problem to log the GPS location which can be checked on the map.
Timeline - graphic timeline mode or table mode
Time overview of attendance and activities of an employee (Clevork user) in nice graphic (timeline) mode or table mode with an option of editing activities and transactions, in case it is approved in the access rights settings.
An option to choose a time interval to view the activities done in last day / week / month or to choose a date or period you wish to see.
Adding and controlling activities is also possible to be done right in the graph or timesheet table.
Reports - generating reports and analysing records
A tool for easy and intuitive generation of reports according to user's needs. On the basis of chosen type of the report, time interval and filter a report is custom generated according to structure CUSTOMER – PROJ ECT – ACTIVITY.
By analyzing processed records about employee's attendance and activities, Clevork helps to form a precise evaluation of the activities of a certain employee group / department, which makes task assignment far more effective.
For current setting ofthe table, the function of automatic report sending via email is very handy. Export into MS Excel table or print of the generated data is, of course, a possibility.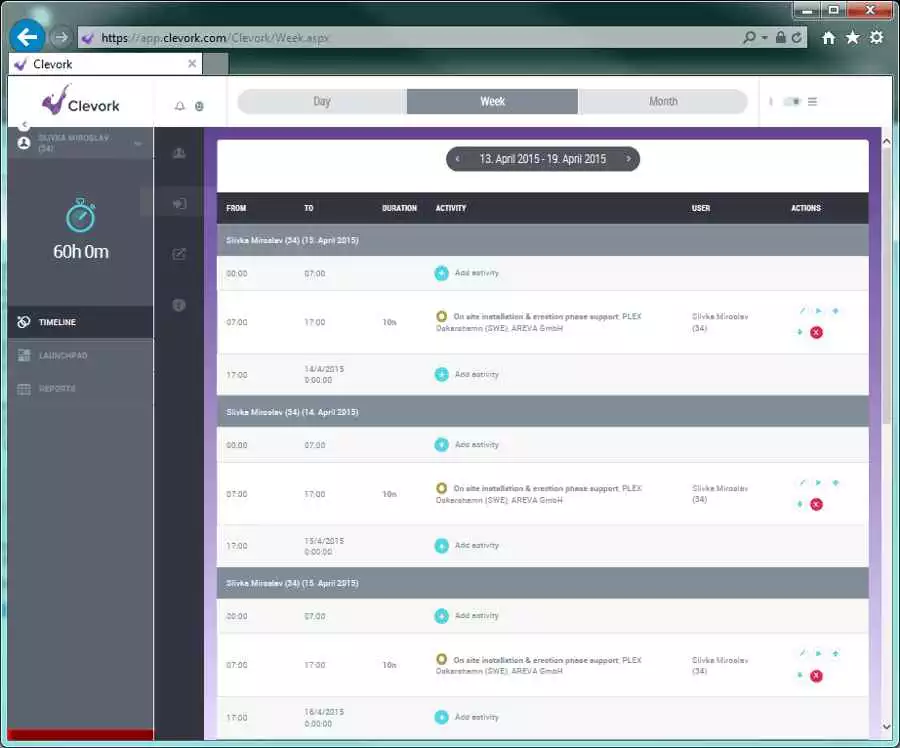 Easy timesheet generation intended for a customer on the basis of the structure CUSTOMER – PROJECT for a chosen interval. Timesheet contains all the necessary information about
Customer
Project
Employee
Hours worked
Workdone
A place for a signature
Two options:
Simple timesheet
Extended timesheet
Adjustable viewing of the necessary data.
Dashboard - Overview of planned activities.
Overview of planned work activities, employee's holiday claim, compensatory leave, and medical examination. lnformation about overall fond, balance and plans. Planned activities / day off are automatically sent via email to a superior for an evaluation and approval.
I am interested in software product Clevork.